SMALL ENGINE REPAIR SHOP
Our Small Engine Repair Shop can service most brands of outdoor power equipment, and we maintain an inventory of Cub Cadet, Echo, and other common repair parts for items we sell. Non-stocked parts can be special ordered, and often arrive in 2-4 days.
We sharpen lawn mower blades and chainsaw chains.
All products purchased at Vern's True Value will receive priority over items purchased elsewhere. We are Cub Cadet and Echo Outdoor factory authorized. Cub Cadet and Echo warranty repair is handled by our in-house repair shop. Our mechanics are factory trained by Cub Cadet and Echo Outdoor Power Equipment.
Repair Shop hours: 7am – 3pm weekdays. You may pick up and drop off equipment outside of these hours, but mechanics will not be available.
REPLACEMENT PARTS
Knowing your outdoor power equipment's  model and serial numbers will ensure that you find the correct OEM replacement parts for your equipment.
Note that on Cub Cadet equipment the part numbers for blades, belts, and filters can be found on a label located either under the seat or hood. Bringing those numbers with you to the store will greatly speed up the process for us to find you the correct item.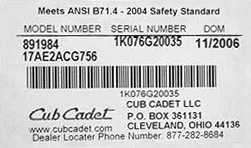 For other parts please bring the full model and serial number with you, as some part numbers change from model year to model year. Having this information will greatly improve our ability to locate the correct part for you.
WHERE DO I FIND THE MODEL AND SERIAL NUMBER TAGS?
Identification tags are located in areas unlikely to need replacement – even after years of use. For most of our power equipment, these tags are approximately 2″ x 3″ in size. Click here to visit the Cub Cadet website to help you locate the tag for your equipment.